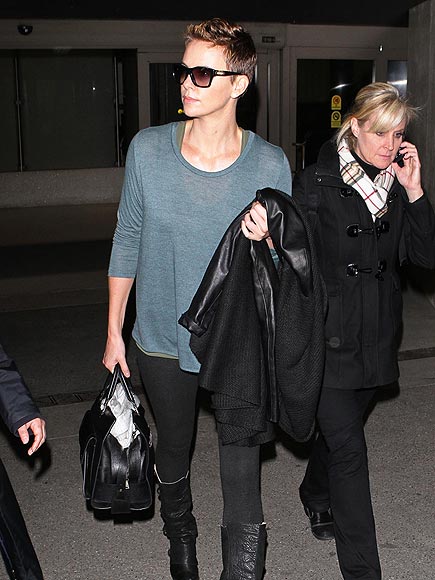 President's Day.  Some people (like me) are at work while SOME people (like my husband) have the day off.  I hate holidays like this; I could so use a day off this week to get some consulting stuff done.  Ah well…
This weeks inspiration monday was a no-brainer.  It also fit my mood this morning of grumpiness at Husband still being in bed.  However when I went into the closet, my BLACK heavy leggings weren't there.  I'm guessing they are in the wash, but who knows.  Anyway, so here's my interpretation of Charlize's easy-going outfit.
Black tunic (Eileen Fisher, old)
Burgundy Leggings (Lane Bryant, they called them Jeggings this past fall)
Black Boots (Avenue)
Scarf (Calvin Klein, purchased at Marshall's)
Pardon my French Bracelet (Kate Spade, purchased off ebay)
Black, grey and burgundy bag (Pietro Alessandro, purchased from one of the flash sale sites because I fell for the colors)
I added the scarf because the outfit felt somewhat blah without it, plus it gave me an excuse to wear my swearing bracelet 🙂
I waffle on this tunic; it's hard to complain about a big, loose black tunic, but this one is made of some form of polyester and tends to get staticky as the day goes on.  The scarf isn't helping right now.  Still, I hang on to it because it's nice to have something like this in the closet for really bloated days.  It would be terrific maternity wear (except I'm too old for that).
Here's a closeup of the beloved bracelet and a better look at the scarf:
I admit that I have a soft spot for vaguely subversive things like this bracelet; it looks beautiful and sharp, and basically is swearing.  I have a ring somewhere that says "Bite Me" in latin.  I prefer a little subtly in my expressions of attitude.  Plausible deniability and all….