Well, not really.  However blue isn't a color I wear that often, so this outfit is special.
This outfit actually has a lot of new, current season items.
I think these sandals are just too cute.  They would look even cuter if I got a pedicure :-p
As it happened, I had ridden to work that morning but gotten a migraine.  My husband was on his way to come pick me and my bike up, so you get a gratuitous bike picture.
No shots of me in spandex bike shorts, thought.  The universe doesn't need that saved for posterity….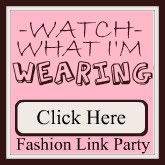 "