Have you ever had to go to a meeting where you really just wanted to fade into the background?  You didn't want to get called on or any of that kind of thing?  Today's outfit was inspired by just such a meeting (starting, I might add, at 7:30AM).  Now, I usually wear a LOT of bright colors and am rarely accused of being afraid to speak out, but meeting (over 100 people, with my bosses boss and his direct reports and their direct reports) was not something I wanted to deal with.  So here's what I picked to blend in.
Black top (Coldwater Creek, purchased off eBay)

Raisin Ponte Trousers (Coldwater Creek)
Grey cardigan (Eileen Fisher, purchased off ebay
Raisin bracelet (Coldwater Creek, similar)
Raisin necklace (Coldwater Creek, similar)
Grey shoes (Gabor 55.460, no longer available in grey)
Black, grey and oxblood purse (Pietro Alessandro, purchased on one of the flash sale sites)
Yes, those pants are a color.  I know it's hard to see in these pictures, but they are a deep burgundy color that CC calls Raisin.  You can see the shoes here as well.
(Having to be at a meeting at 7:30 meant there was no time for outdoor full-length pictures.
This sweater is one of my all time favorites. It's soft and warm and has some shaping to it and I would buy it in every color of the rainbow.  Which is, of course, why it was only ever available in charcoal and the design hasn't been done again since.  *sigh*
The black top is interesting, but gave me problems all day.  It has a criss-cross neckline, which always seems too low for professionalism on me.  I swear it's pinned closed, but that just means you don't see my bra.  It then has a band directly under the bust which gives the top a really nice shape.  I picked this black one and a brown one up on ebay for about $10 total.
I realize this isn't one of my BEST outfits, but it fit my purpose of not being too noticeable while still expressing my style.  I was comfortable (or as comfortable as anyone could be in those truly hideous chairs) and confident, while not attracting undue attention to myself in a room full of people who knew far more than I did about the topic at hand.  To me, that's a win.
Closeup of the jewelry and you can see the purse in the background.  Bonus points for resisting the urge to touch up/blur the wrinkles around my eyes (mostly under) That I can see now that I take a closer look at the picture 🙂
Bonus points to anyone who can identify the source of the image behind me when I'm standing up.  Yes, I have that on my office wall!  I love academia.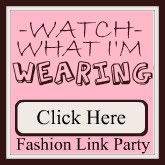 "